App per TV che offrono un sacco di divertimento e intrattenimento
Germania
Maxdome, JUKE, Videociety, Zattoo, Netzkino, ServusTV, Tagesschau, ARD Mediathek, ZDF Mediathek, arte, SpieleCenter
UK
Netflix, Youtube, TV Player, Live TV
Olanda
NPO Gemist, RTL XL, SBS KIJK, NLZIET, Regio TV, Videoland, MovieMAX, NOS Nieuws, Telegraaf TV, Kerkomroep.nl, Tintl, FM Nederland
Medio Oriente
Bein, Shahid+, Starz Play, Go online TV, Seevii LiveTV, Icflix, Mavshack
Australia
Plus7, 9jumpin, tenplay, freeview plus, Quickflix, SMH.TV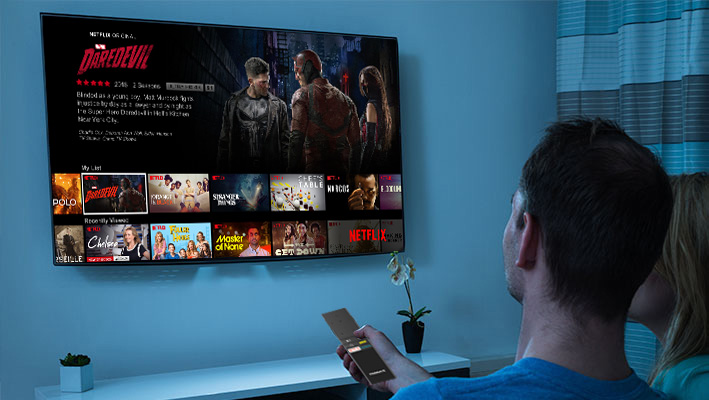 Premium
Enjoy great entertainment with your family
Kick back with your whole family in front of the living room TV. Spend a few hours or a day binge-watching popular TV shows, series, and the latest movies through premium apps.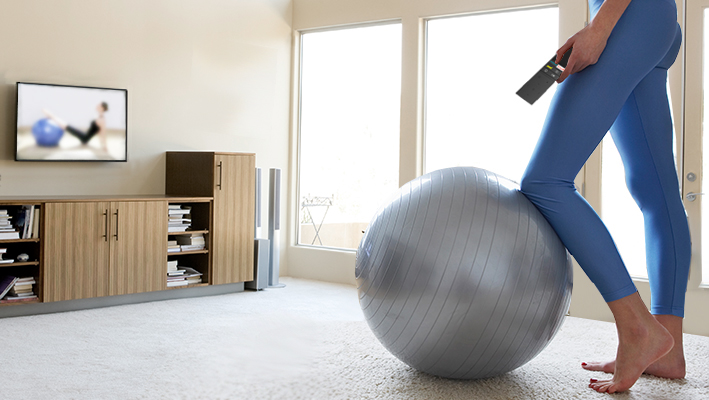 la salute
Form new healthy habits
No time to exercise?
Work out at home with the help from apps like yoga, massage, squats, and couple stretch and manage stress and find balance in your life.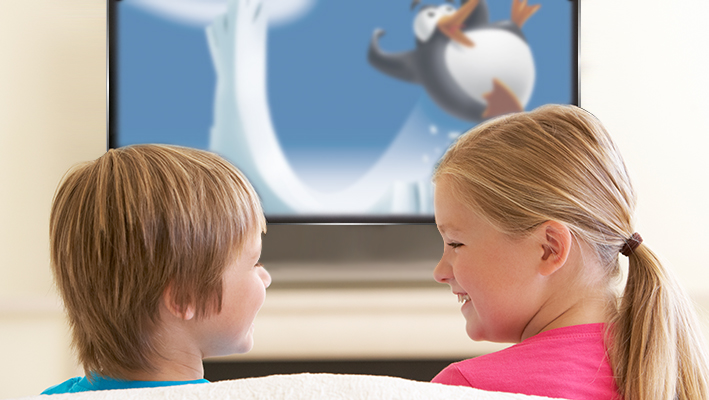 Fanciullo
Give your kids the very best
We offer great free and fun educational apps that they're sure to love, including Children's story and Aesop's fables.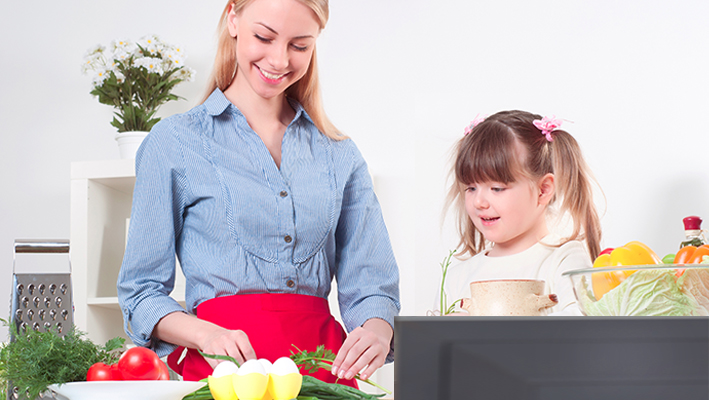 Vita Dietetica
Be the family chef for the night
Check out the slew of food recipes and healthy food information. Cancel that restaurant reservation, and whip up a great healthy meal for your family right in your home.







Enjoy even more content together
Simple content sharing allows you to share the enjoyable moments with your friends and family.
You will discover a brilliantly simple way to play video, music and photo wirelessly from any device on your home network.

Port: USB 2.0
Plug any storage device into the USB 2.0 port.
Play your content directly from a flash or external hard drive.

UPnP
Play your contents directly from your tablet, Set-top Box, laptop, or other devices on your TV on the same network.

Wireless Display
Display the screen of your mobile device on your TV screen, meaning that you can enjoy videos, photos, music on a big screen without image or color distortion.

Guarda i programmi TV satellitari. SAT>IP
L'applicazione SAT>IP ti connette a una vasta gamma di canali in streaming IP tramite il server SAT>IP.
* Attualmente il servizio SAT>IP è disponibile solo in Germania.

Live streaming con il set-top box di HUAMX
Dimentica le noie di dover installare un sintonizzatore separato.
Con un set-top di HUMAX che supporta il live streaming, puoi inviare in streaming in diretta i programmi televisivi a tutti i dispositivi di casa, come il tuo smartphone, il tuo tablet e il lettore multimediale in streaming di HUMAX.
L'applicazione Live TV ti offre l'accesso ai canali TV in diretta.

Sintonizzatore Basta cambiare sorgente di ingresso
Non serve più cambiare sorgente di ingresso per guardare i programmi TV in diretta. Con H5 puoi accedervi mediante il sintonizzatore televisivo fisico sul retro.
* Il sintonizzatore è disponibile solo su H5.
Utilità di avvio elegante e facile da navigare
L'utilità di avvio offre diversi menu interattivi per facilitare l'accesso a ciò che desideri:
Movies, Shopping, Recent, Recommended, HUMAX Plus+, All Apps, App Stores e Settings.
Il layout è semplice e intuitivo, e sono indicati i contenuti di ogni menu.
Recent
Ti consente di vedere le app usate più di recente.
Recommended
Visualizza le app consigliate.
HUMAX Plus+
Contiene tutte le funzioni di menu specifiche di H1 e H3.
All Apps
Presenta tutte le app offerte da HUMAX.
App Stores
Ti consente di aggiungere altre app usando il menu.
Settings
Facilita il controllo di tutte le impostazioni, quali rete, display e lingua, tra le altre.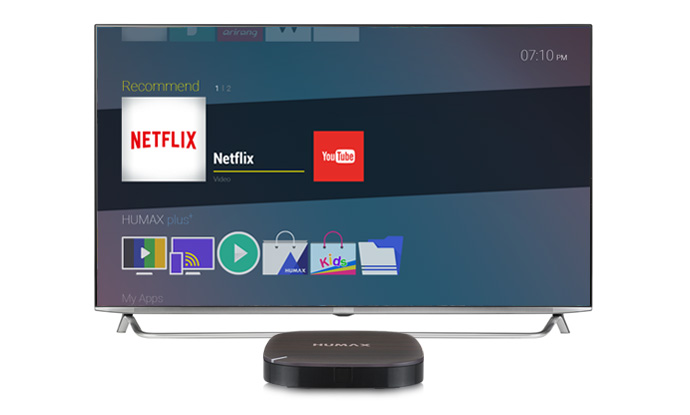 App mobile Remote di facile utilizzo
Assumi il controllo con la tua app Remote sul tuo iPhone (iOS7 o versioni successive) o smartphone Android.
Scarica l'app da Google Play Store o dall'App Store per iOS.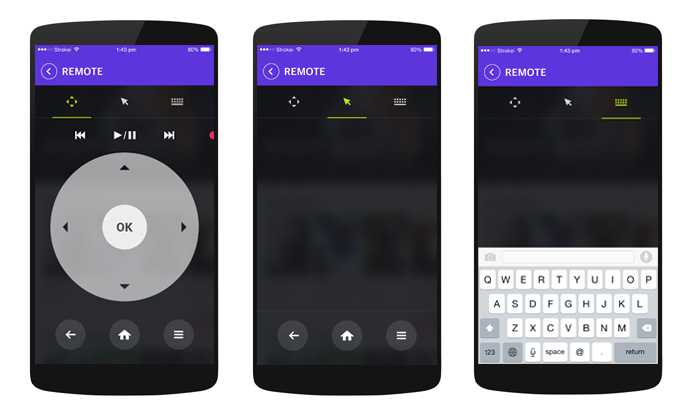 HUMAX Cast nel tuo dispositivo mobile
Controlla senza sforzo il tuo lettore multimediale in streaming di HUMAX dal tuo dispositivo mobile.
Humax Cast ti offre straordinarie funzioni facili da usare.
Guarda l'ultimo film o programma sul tuo TV con un semplice clic.
Puoi anche accedere alle app nel tuo dispositivo tramite alla schermata APPS, di facile navigazione. (I service provider possono usare solo app autorizzate.)
Pagina APPS
Controlla tutte le app dal tuo dispositivo mobile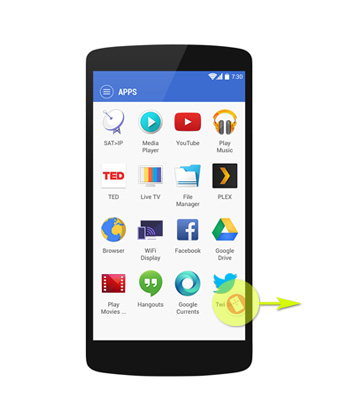 App Remote per dispositivo mobile
Controlla tutte le app dal tuo dispositivo mobile
Pagina principale
Scopri cosa c'è in evidenza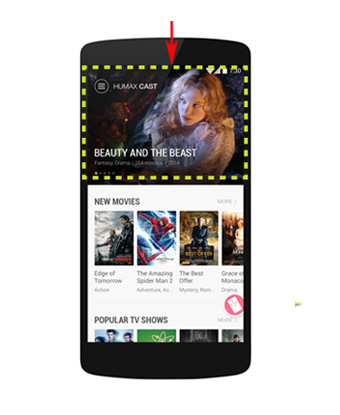 Pagina Movie
Con un clic invii il film in streaming al tuo TV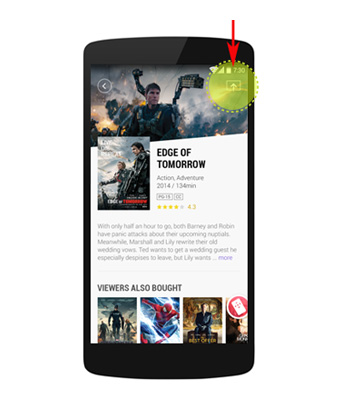 Sistema di upgrade delle applicazioni
Upgrade delle app
Per gli operatori è facile modificare il menu Apps.
Possono aggiungere nuove app al menu Apps mediante il loro server.
Per eseguire l'upgrade di un'app, gli operatori devono semplicemente caricare la nuova app nel loro server.
Agli utenti verrà automaticamente notificata la presenza della nuova app (vedi le icone a destra).
Humax configurerà questo sistema nel server dell'operatore.
Upgrade del software
L'upgrade del software avviene in modo analogo.
Quando gli operatori caricano nuovo software nel loro server, il lettore multimediale in streaming HUMAX dell'utente
visualizza una nuova icona nel menu Settings (vedi le icone a destra)
Humax configurerà questo sistema nel server dell'operatore.
* Solo per ISP e operatori